College has been closed today due to snow, and thank the lord! There was no way I was going to attempt to climb the mountian, i'd need a ski lift. Anyway, it is lovely to be off today as now i am off til next Monday- lovely. I havent been out in the snow yet today, i'm waiting for my boyfriend to get here. So i took the time to scan pages form my log book from my last project in college, which was 'Fashion as fun'. I chose to base mine on a theme of flowers (quite boring yes) and the end result was a skirt based on my theme.
The pages from my log book is research on upcoming trends, research on different skirts, and also of designers who I think have made fashion fun, and designers who took inspiration from my chosen theme of flowers.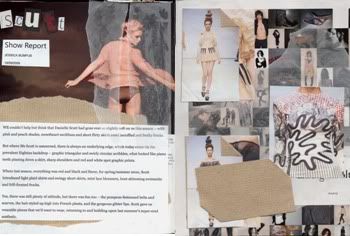 As you can see, I like to use alot of collage :p
Anyway, i'm hoping we're in for some more snow!